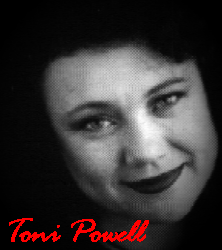 Born in Sydney, Toni graduated as Bachelor of Music from The University of Sydney and has completed advanced vocal study in Sydney and New York.
Prior to her present role, Toni performed a number of roles for The Australian Opera: appearing as First Handmaiden in Turandot, High Priestess in Aida, Gianetta in The Gondoliers, Cretan Woman in Idomeneo, Second Handmaiden in Turandot, Sylvanie in the Merry Widow, the Second Noble Orphan in Der Rosenkavalier, Tzeitel in Fiddler on the Roof.
As a student Toni was active in many musical productions: roles such as Faith in The Hammer That Shapes, Cretan Woman in Idomeneo, Lucy Lockitt in The Beggarís Opera - all for the University of Sydney. Toni has performed three roles in Festival of Sydney productions: Yum-Yum in The Mikado (this production also toured to Papua New Guinea), Mabel in The Pirates of Penzance, Josephine in HMS Pinafore. Other roles include Euridice in Orpheus in the Underworld, Laurey in Oklahoma!, Phylis in Iolanthe.
Tony has performed as soprano Soloist in Mahlerís Second symphony (Concert in support of Music Education, NSW) and with the Sydney Symphony Orchestra, in addition to Recital/Concerts with The Australian Opera Benevolent Fund Recitals, Organ Society of Sydney, The Conservatorium Association, The Baroque Guild of Sydney, the Goethe Institute of Sydney.
A recent finalist in The Shell Covent Garden Scholarship and the German Operatic Award with the Opera Foundation of Australia, Toni has been a winner of the Joan Sutherland Society Scholarship, the Music Teachersí Association Scholarship and the Australian Broadcasting Corporation Young Performers Competition, Vocal Section.

Picture from playbill