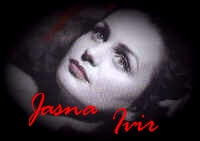 As a Croatian born in Germany, she started her musical career at the age of 6 playing the organ and made her singing debut at 17 playing the role of Iduna in the Operetta Fireworks. Following she this she played four roles including the Gypsy and Mara in the world premiere of Strannik-The Raspouting Story at Weikersheim Castle. Next she played the dual roles of Jennyanydots, the Grumbie Cat and Griddlebone in the Swiss premiere of Cats. Jasna made her debut in Vienna creating the roles of Frl. Windish, the mad woman and Mizzy Loschek in the world premiere of the most successful German speaking musical Elisabeth at the Theatre an der Wien. Whilst in Vienna she wrote and performed a one-woman show "A Piece of Sky" at the Graumann theatre in aid of charity for her native Croatia.

Following this she then came to England appearing at the Old Fire Stantion in Oxford playing the lead role of Anna Rabinnovitch the concertpianist in Girls were made to love and kiss, the story of Franz Lehar in which she sang and accompanied all seventeen songs.

Upon her return to Vienna she played the Sugar Bowl and Madame de la Grande Bouche in the European premiere of Walt Disney's Beauty and the Beast at the Raimund Theatre. During the run of Beauty in Vienna last year she also appeared in the Summer Operetta Festival in Baden playing the lead role of Sylva Varescu in Csardasfurstin and played the alternate Elisabeth in Elisabeth at Theatre an der Wien.

Jasna just finished the National Theatre production of Hallisina playing the role of Annabelle. This summer she will be starring in Countess Mariza in Baden near Vienna the opening piece of the Summer Operetta Theatre. On record she recorded her solo debut album Musical Diva Delights which went straight to No 1 in the German easy listening charts and is available in Brittain at Dress Circle Records and the foyer of Her Majesty's Theatre. She can also be heard on the concept recordings of Clowns and the origonal cast recordings of Beauty and the Beast and Elisabeth.

Jasna is delighted to be making her debut in London and to be the youngest Carlotta ever.

London "Hannibal" | Posing by London's stage door
Jasna on the cover of her CD "Musical Diva Delights" | Inside of her CD cover
Another CD picture | A fourth CD picture | "Prima Donna"

Jasna has a CD out entitled Musical Diva Delights.