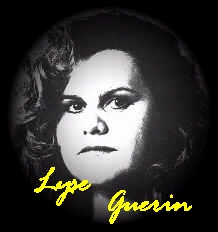 I never spoke English when I started the Phantom in 1989. I was the first Carlotta in Toronto when the show opened in Canada. My accent is totally natural and it's good because Carlotta, she is an Italian diva. I was very nervous to start to start the first rehearsal because I didn't understand the language very well at that time, only a few wrods and verbs (present tense) and that's it.
Anyway, we opened September 20 '89. It was a wonderful night and a special event in Toronto, a big reception at Casa Loma, etc, etc.. Mr. Harold Prince gave me a note: "No one appeared to better advantage, you are tempestuous, funny, vulnerable, and you have a beautiful voice and acting faculty to match." I admire this man, and thank God who gave me the unique chance to work with him. Also I very much appreciate and respect Mr. Garth Drabinsky who has given me work the last 7 years. The adventure of Phantom is a part of my life now.
I have sung with the Canadian cast either in Toronto for 3 years and joining the national touring company going all across Canada (Montreal, Ottawa, Winnipeg, Vancouver (94-97), Edmonton, Saskatoon, Anchorage (Alaska) and Honolulu (Hawaii) (94+95). I have past my 2,000th show, and I still enjoy being the opera diva of Paris.
In opera, I haven't yet sung my favorite role, it is "Manon Lescaut" by G. Puccini. I love this music, and the character of the 'heroine', this opera makes me cry.
A normal performance day, for me is: Try to not talk so much because it makes my voice tired and you need to be fresh for those high notes. This part is very operatic and demanding vocally and physically. To keep my breathing system healthy, I like to swim. I have to eat light and too late before 5:30 for an 8 PM performance.

This is a letter that Harold Prince wrote to Lyse
"Lyse Guerin sang and acted the role of the diva, Carlotta, in our enormously successful production of "Phantom of The Opera" in Toronto for two years. She has a beautiful voice and an acting facility to match. It is a demanding aissignment calling for high E's at each performance, a number of high C's, and the ability to be tempestuous and vulnerable. She accomplishes all of it with authority and seeming ease."

LYSE GUÉRIN (Carlotta Giudicelli) is Phantom Toronto's original Carlotta. Born in Lac St. Jean, Quebec, she has performed as Carlotta more than 2,000 times over the past eight years, in Toronto and with the Canadian and international touring companies. She studied the Bel Canto with the legendary Virginia Zeani in the U.S. Her repertoire spans opera and musical theatre.Lyse was a finalist in the Luciano Pavarotti International Competition in Philadelphia.
Hear Lyse sing.

8x10 glossy | In "Il Muto" | During "Prima Donna" | Rehearsal for "Don Juan" | "Hannibal"
Another "Hannibal" | Another "Il Muto"
"Don Juan" | "Sitzprobe" | "Hannibal," again