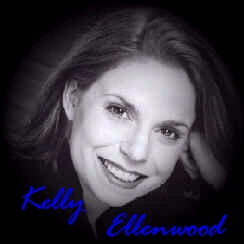 KELLY ELLENWOOD (Carlotta Giudicelli) is equally at home in the worlds of opera, Broadway, and cabaret. A native of Nebraska, she received the ``Actress of the Year" Award in Chicago for her performance as the Witch in the second national tour of Stephen Soundheim's Into the Woods as well as winning several national and regional Young Artist's competitions. Favorite roles include Cunegonde in Candide and Constance Bonacieux in a new version of The Three Musketeers that she helped develop with composer/lyricist Gregg Opelka. Ms. Ellenwood holds a Master of Music Degree from the University of Illinois-Champaign/Urbana. She and production supervisor/husband/best friend Timothy Parsaca make their home in New York City. Blessed Be!
This information was provided by Ms. Ellenwood herself for the "Carlotta Shrine", her letter was dated 3/97. Thanks Kelly!
I was born in Lincoln, NE, and lived there till the age of 21 when I graduated from the University of Nebraska. I was originally enrolled on an academic scholarship as a Politcal Science Major, but switched to Music when they offered to pay for my full education, plus let me work as an undergraduate teaching assistant. I studied with Donna Harler, who to this day is a great source of inspiration. I took 2 years off to work in the theatre, doing professional theatre in Omaha, NE, then went on to graduate school at the University of Illinois/Champaign-Urbana. There I was a graduate assistant in the Opera Department, and was in charge of organizing the Opera Workshops and keeping the Maestro on schedule. I studied with Frances Crawford and the highly esteemed John Wustman (coach for Pavarotti, Sutherland and countless emerging grand opera stars). I wasn't a huge opera person, in fact I was noticed more for my recital work, particularly my recitals of Schubert and the french chanson. I moved to Chicago after graduation, and won a couple of young artist competitions and landed a job as 'Mabel' in the new version of "The Pirates of Penzance". In the role, I had to demonstrate both my operatic skills (a high E flat every night) plus my pop skills (Linda Ronstadt interpolated "Sorry Her Lot" and made it into a pop song) and my belt in "Go Ye Heroes" (transposed down a fifth.) It was on tour that I met my husband to be, Timothy Parsaca, who joined the company mid-tour as the Master Electrician. We dated across America...We both landed jobs with the Second National Company of Stephen Sondheim's "Into the Woods," which originated out of Chicago, and was awarded the Actress of the Year (1991) for my performance.
We were married in June 1991 and took a 400 mile bicycle trip from Estes Park, CO to Sante Fe, NM for our honeymoon. Nine mountain passes later, we had formed the basis for a terrific marriage.
We lived in Chicago for 2-3 years, working in regional theatre. I expanded my theatrical skills further when I started writing grant proposals for a mid-sized theatre company in Chicago, Pegasus Players. I became Director of Development and learned a lot about not-for-profit theatre. It was a good experience. I also worked extensively on my one-woman show.
I joined my Production Manager husband as his assistant on a national tour of "Porgy and Bess" which subsequently went to Israel. It was a greta experience. Meanwhile, we had moved to New York, and I left "Porgy and Bess" to start up on my career again, and a month later was hired as the "Carlotta" understudy for the Raoul Co. I was promoted 9 months later. The 2 1/2 years that I spent with "Phantom" has been incredibly rewarding, but about 2 months ago I decided I needed to move on. I had two great auditions today and will hopefully be on Broadway before 1997 is out.
News from Kelly: She left the NY cast of Phantom at the end of June so she could go to LA and perform "Libby" in August and September and the Cinegrill.
Read about her debut on Broadway and her one-woman show "Libby".
From Ms. Ellenwood's resume
National Tours:
The Phantom of the Opera Carlotta Guidicelli
Into The Woods The Witch
The Pirates of Penzance Mabel
Candide Cunegonde
Regional And Chicago Are Theatre (selected experience):
A Stephen Sondheim Evening Revue
Jacques Brel... Revue
Fiddler On The Roof Frumah Sarah
Charlie's Oasis (world premiere) Harriet
The Wizard Of Oz Dorothy
Exit Don Juan (world premiere) Consuelita
A Little Night Music Mrs. Nordstrom
Related Experience:
First Place Gold Medalist, 1997 Savannah Onstage American Traditions Competition
Producer, Voices of the Night, "Phantom..." AIDS benefit, Intiman Playhouse, Seattle
Volunteer Board, Season of Concern, Chicago Theatre AIDS relief organization
Writer, producer and performer of own cabaret show, various revues in Boston, Chicago, Denver
Grant Writer and Director of Development for Pegasus Players, Chicago, IL
Stage Manager, PORGY AND BESS, Jerusalem Festival of Israel 1994, Caesarea
"Think of Me" | "Prima Donna": with TJ Meyers and Ian Jon Bourg | "Hannibal": with Donn Cook
"Hannibal": with Stefano Fucile | Kelly from the playbill | Kelly's 8x10 glossy | As Carlotta | Hannibal
Kelly in a newspaper | The poster for "Libby" | "Hannibal" with Fucile | "Prima Donna"