Phantom Faces Webring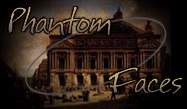 This is the Phantom Faces webring page. What is this webring about? Characters in, and actors that have been in, Andrew Lloyd Webber's hit musical, The Phantom of the Opera.
To qualify for this ring, you must submit your site to the ringmasters Barbara or Carlotta). Your site must be exclusively about one of the characters in Phantom, or be all about an actor who is / has appeared in Phantom. This ring will NOT include any regular fan pages as are included in the Phantom Ring.
PLEASE don't bother to submit your site if it is not a COMPLETE site (as opposed to one or two pages) about the actor(s)/character(s). It will be removed from the queue. Also, use the URL for the main page of the actor/character, NOT YOUR main page about musicals!
Fill out the application and then add the html code to your page. You can also get the code by logging into your site at the Crickrock website. Save the graphics at the place where your page is and you'll be in the ring!
---
---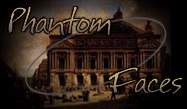 This Phantom Faces site owned by
Phantom Faces
Click for PREVIOUS | NEXT | RANDOM
Or learn more about the Phantom Faces Ring

---